The aim of this second edition of the forum series on smart city is to provide an international forum for Dutch and Chinese researchers, professionals, industrial practitioners, and government organizations to promote their cooperation on smart city technology and share their knowledge in the rapidly growing area of smart city technology, development and applications. The 1st Sino-Dutch Forum on Smart City was held in Beijing, China (2013).

Event Information
There is no any registration fee for this forum. The speakers of this forum are those invited only. The participants of the forum are invited to submit their posters or demos.
Venue
The forum will be held in the WENEN95 conference room at the fourth floor of Amsterdam Arena. The address of Amsterdam Arena is: Arena Boulevard 1, 1101 AX Amsterdam
You can take Metro line 50 or line 54 to stop at Bijlmer/Arena, then you should go to the main entrance E (Hoofdingang E). At the front desk of Amsterdam Arena, you should report your name and the name of the forum. You will be allowed to enter the building and go to the WENEN95 conference room at the fourth floor.
How to reach Amsterdam Arena by car? Download the
instruction
here (in Dutch).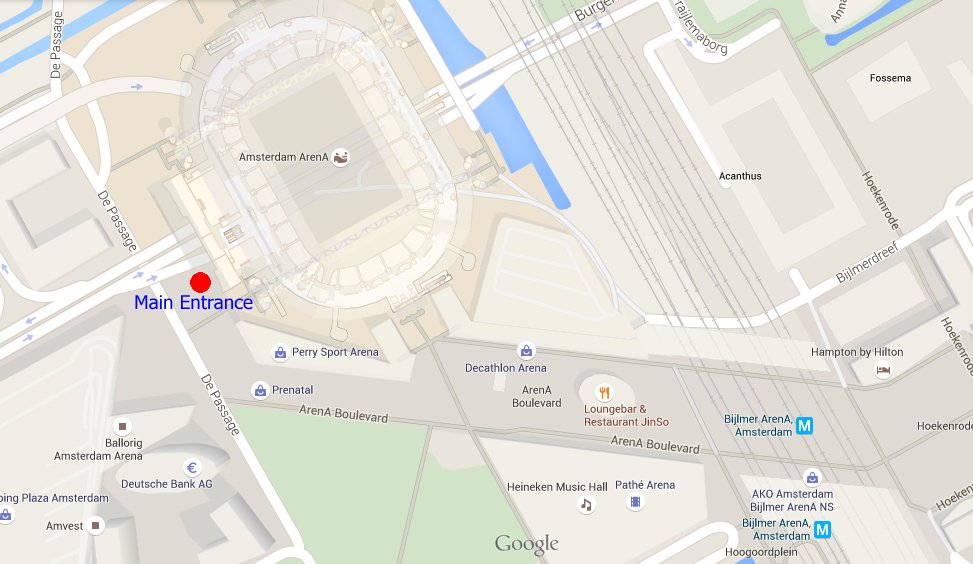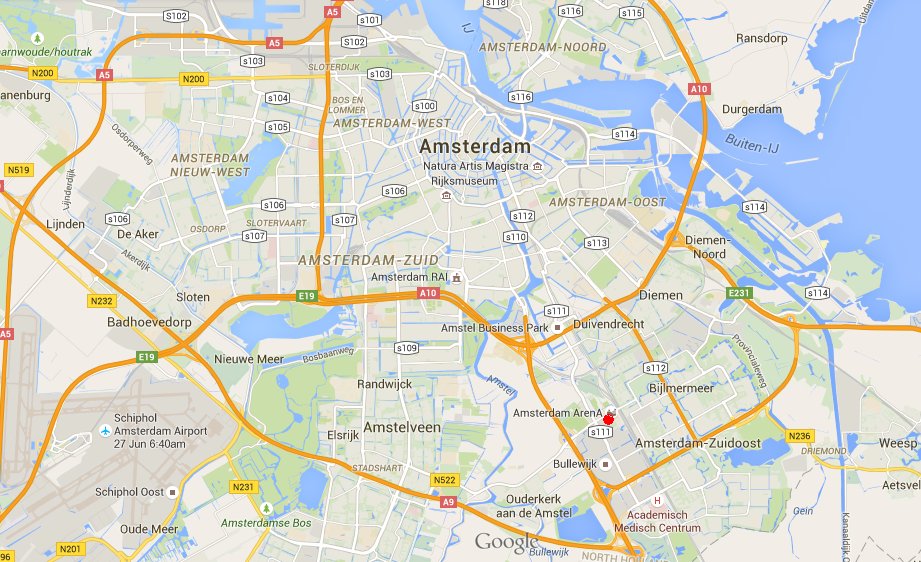 Hotels
See this webpage.

Important Dates
Registration for Poster, Demo, or Participation:
Before May 20, 2015
Notification of Selected Posters and Demos:
May 25, 2015
Forum Date:
June 1, 2015

Call for Posters
See the details of call for posters and demos.

Registration

General Co-Chairs
Steering Committee
Organizing Committee


Program
| | |
| --- | --- |
| | 08.30–9.00 Arrival and registration |
| | 9.00-10.35 Forum Opening |
| 9.00–9.10 | Welcome speech by City of Amsterdam |
| 9.10–9.20 | Welcome speech by Tong Tengfei, Deputy Director of Beijing Municipal Commission of Economics and IT |
| 9.20-9.30 | Speech by Professor ZHANG Xinmin, Zhang Xinmin, Office Chief, First Secretary of Science & Technology Office, Chinese Embassy in the Netherlands |
| 9.30-9.40 | Speech by Frank van der Duijn Schouten, Rector Magnificus of VU Amsterdam |
| 9.40-9.50 | Speech by Prof. Lin Shaofu, Director of Beijing Smart City Institute,BJUT |
| 9.50-10.05 | Amsterdam Smart City (Ger Baron, Amsterdam Municipality) |
| 10.05-10.20 | Beijing Urban Data View (XIONG Zhang, Vice Chairman of China Society of Smart City) |
| 10.20-10.35 | Innovative ICT, Building a Better Smart City (Leon He, President, Western Europe Enterprise Business Unit, Huawei Technology Co., Ltd) |
| | 10.35–10.50 Tea Break |
| | 10.50-12.10 Smart City and Mobility |
| 10.50-11.05 | Smart Mobility in the Netherlands (Emiel Reiding, Ministry of Infrastructure and Environment, NL) |
| 11.05-11.20 | Intelligent transportation System Research,Deveopment and service in Beijing(Prof WENG Jiancheng, Beijing Univ. of Technology) |
| 11.20-11.35 | Spatial Economics for Transportation(Prof. Erik Verhoef, VU) |
| 11.35-11.50 | Traffic management for Smart City(Ronald Adams,Amsterdam Practical Trial (PPA)) |
| 11.50-12.10 | IBM and SmartCity (IBM) |
| | 12.10–13.30 Lunch |
| | 13.30-14.50 Smart City and Health |
| 13.30-13.50 | eHealth in Netherlands (Jeroen Maas, Cluster Life Sciences & Health of the Amsterdam Economic Board) |
| 13.50-14.10 | Mobile-health connectivity of diagnostics: opportunities in urban settings (Prof. Tobias Rinke de Wit, Amsterdam Health Technology Institute) |
| 14.10-14.30 | Brain Big Data Based Wisdom Service for Mental Healthcare(Prof ZHONG Ning, International WIC Institute) |
| 14.30-14.50 | Data driven lifestyle support through smart devices(Prof. Gusz Eiben, VU) |
| | 14.50-15.05 Tea break |
| | 15.05- 16.00 Poster and Demo (Chair: Zhisheng Huang) |
| | 16.00-17.30 Smart City and Energy&Environment |
| 16.00-16.15 | Air quality in China and the Netherlands(Ronald van der A and Bas Mijling, KNMI) |
| 16.15-16.30 | Environment in China(AN Mei, Economic Bureau of Sino-Singapore Tianjin Eco-city,China) |
| 16.30-16.45 | Smart city and smart infrastructure (Prof. Robert Meijer, TNO) |
| 16.45-17.00 | Intelligent Geospatial Systems in China (Prof CHI Tianhe/Dr. Ling Peng, Chinese Academy of Science) |
| 17.00-17.15 | Energy and Environment(Carolien Gehrels, Arcadis, Netherlands) |
| 17.15-17.30 | Smart City and Energy(Ivo Wenzler, Accenture, Netherlands) |
| | 17.30-17.40 Closing Speech (Kajsa Ollongren, Vice Major of Amsterdam) |

Smart City Event 2015
From the 2nd until the 5th of June 2015 the Smart City Event will take place for the 5th time in Amsterdam, The Netherlands. This large scale European conference hosts various cities, system operators, energy companies, industrial organizations and technological parties. They come together to share knowledge on how to achieve a Smart City. Projects where climate ambition and energy transition are the main focus point. Amsterdam Smart City is official host of the Smart City Event.
More information about Amsterdam Smart City Event 2015.

The organizers of the 2nd Sino-Dutch Forum on Smart City